Medical equipment brands distributed by IBIOM
IBIOM distributes medical equipment from several brands recognized for their quality and ergonomics, including ergoCentric, Humanscale, LIFEFORM and more.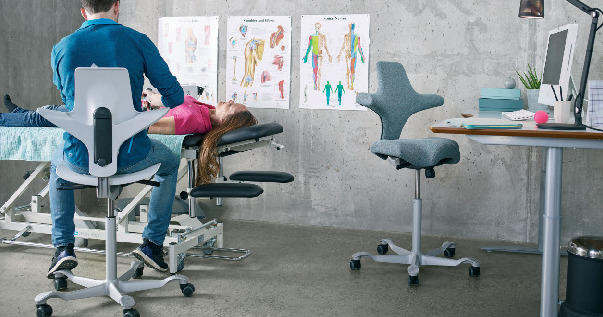 IBIOM distributes several brands of medical equipment to meet the needs of healthcare professionals and their patients.
Discover the main brands of medical equipment distributed by IBIOM:
IBIOM
Moments Furniture
Allseating
HÅG
ergoCentric
LIFEFORM
Humanscale
HealthCraft Products
Are you looking for specific medical equipment?
Ibiom has ergonomic medical equipment for all types of health care establishments: hospitals, medical clinics, medical practices, seniors' residences and others.
IBIOM medical equipment
IBIOM is a Quebec-based company that designs ergonomic medical equipment for hospital and medical clinic staff, including treatment tables, medical chairs (dialysis and specimen collection), and customized workstations.
IBIOM also offers a wide selection of high-quality furniture for senior living and long-term care facilities, such as geriatric care chairs and mobility aids.
IBIOM products are known for their quality, reliability, and durability.
Medical Equipment Moments Furniture
Moments Furniture offers all the medical furniture to furnish care rooms and waiting rooms with high-quality chairs. Combining style and comfort, Moments Furniture creates warm, modern, and relaxing care environments where the patient's well-being prevails.
Moments Furniture also incorporates circular economy principles in the design and manufacturing of its products.
Allseating medical equipment
Allseating specializes in the design of chairs and armchairs. Each product is designed to provide optimal comfort to the user.
Allseating offers a wide selection of healthcare seating, including chairs and sofas for waiting rooms, patient rooms, and stools for exam rooms, on-call stations, and cafeterias.
In addition, several customization options are available to meet the needs of all healthcare environments.
HÅG medical equipment
Norwegian company HÅG, known for its iconic Capisco chair, an ergonomic chair with a saddle-shaped seat, designs modern-looking office chairs that naturally adapt to body movements.
Created in collaboration with designers and interior architects, HÅG office chairs and stools use innovative and ergonomic design to create elegant and comfortable workspaces.
HÅG chairs offer various adjustment options to accommodate different working positions throughout the day easily.
Ergocentric medical equipment
Since 1990, ergoCentric has specialized in the manufacture of ergonomic office seating. With the user's comfort at the forefront, ergoCentric offers task chairs, stools, meeting tables, and height-adjustable desks that minimize muscle fatigue and promote productivity.
Using a modular manufacturing system, ergoCentric chairs are fully customizable to meet the precise needs of each individual. The ergoCentric office seating manufacturer also adheres to high standards of environmental management.
Humanscale medical equipment
Humanscale designs ergonomic office equipment to improve the comfort and health of workers. Based in New York City, Humanscale design studio collaborates with leading industrial designers to create modern office seating and accessories inspired by human body movements.
Simple yet ingenious in design, Humanscale office chairs rely on the laws of physics rather than complex manual mechanisms to adjust to the user's position naturally.
HealthCraft Products Medical Equipment
HealthCraft draws on the expertise of its three founders, an engineer, an occupational therapist, and a home healthcare professional, to provide safety and mobility products that prevent falls and injuries.
HealthCraft offers a wide selection of grab bars, rails, and support handles for the bathroom and bedroom. With the Invisia collection, HealthCraft proves that it is possible to optimize the safety of a room without compromising its aesthetics and elegance.
Do you have specific needs?
Our team of professionals at Ibiom is there to advise you and guide you towards the range of products best suited to your needs.
Do you have specific needs?
Our team of professionals at Ibiom is there to advise you and guide you towards the range of products best suited to your needs.