Medical equipment for emergency services
The emergency department is a unit in a hospital that takes care of injured or sick people who come to the hospital on their own or by ambulance. Upon arrival at the emergency department, the patient must register at the front desk and is then directed to triage, where a nurse assesses the severity of the patient's condition.
To ensure proper patient management, diagnostic tests may be performed, such as x-rays or blood tests. After triage, the patient is directed to the waiting room until a physician is available for consultation. The doctor assesses the patient's condition in the exam room and provides the necessary treatment.
Depending on the severity of the condition, the patient may be kept under observation or admitted to the hospital for specialized care. Because of the variety of care provided in emergency departments, hospitals use many types of equipment: examination tables, treatment chairs, waiting room furniture, medical stools, reception stations, mobile workstations, etc.
To ensure patient safety and prevent musculoskeletal disorders among medical staff, it is essential to use ergonomic medical equipment.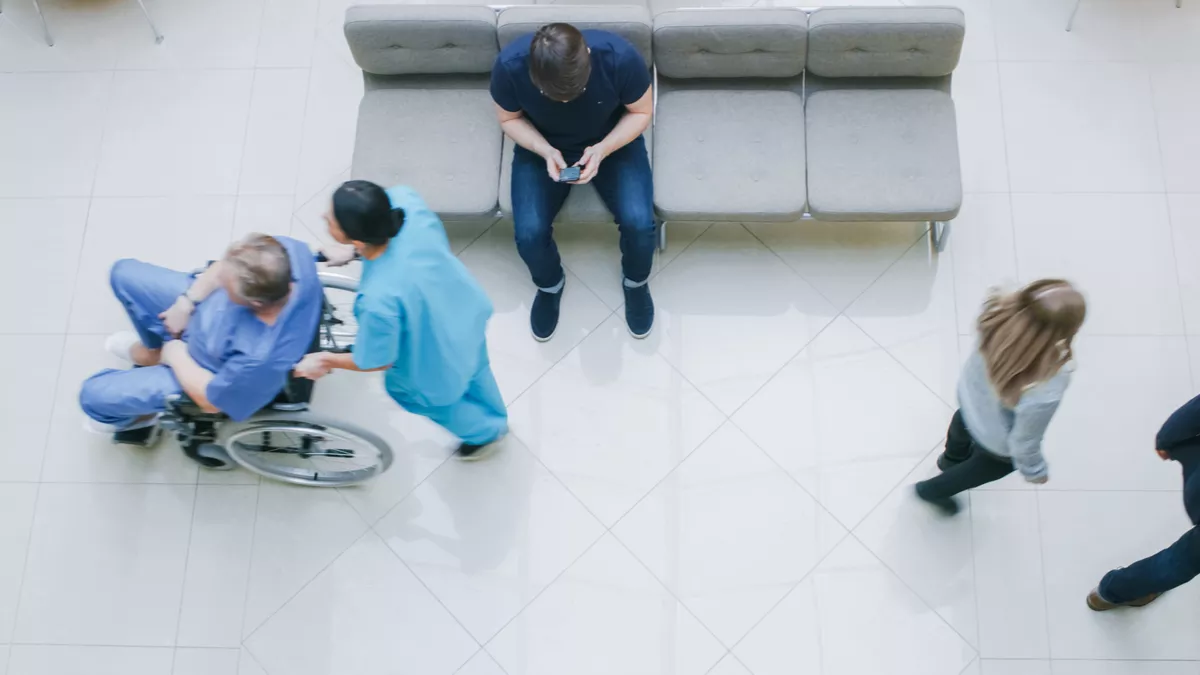 Are you looking for a brand of medical equipment?
IBIOM distributes medical equipment from several brands recognized for their quality and ergonomics, including ergoCentric, Humanscale, LIFEFORM and more
The importance of using ergonomic medical equipment in emergency departments
Healthcare professionals are among the workers at risk of developing musculoskeletal disorders that lead to work stoppages. Several factors can cause chronic pain in nurses and medical technicians, including repetitive motions, excessive use of force, and awkward postures. Moving patients is one task that places medical staff at risk of developing a musculoskeletal disorder.
Staff who work at a desk with a screen are also at risk for chronic pain, including back pain or carpal tunnel syndrome. One way to reduce the risk of musculoskeletal disorders among healthcare professionals is to provide them with ergonomic medical equipment appropriate for their tasks.
For example, a treatment chair that is electrically adjustable in height helps reduce the physical effort required to position the patient. Height-adjustable workstations can be easily adjusted to suit the task at hand, reducing the need for awkward postures.
Discover our range of treatment chairs & our height-adjustable tables and desks.
Do you have specific needs?
Our team of professionals at Ibiom is there to advise you and guide you towards the range of products best suited to your needs.
Do you have specific needs?
Our team of professionals at Ibiom is there to advise you and guide you towards the range of products best suited to your needs.
Medical equipment for the emergency department: treatment chairs
The HEMA+ chair and the Foster recliner are among the recommended medical pieces of equipment for emergency departments. These chairs offer several features that ensure patient safety while facilitating the work of medical professionals. The HEMA+ chair is a compact medical equipment for short-term treatments, such as blood draws and general examinations. For easy access to the patient, the chair's armrests are swivel and removable. The chair's height and tilt are adjustable by electric mechanisms, controlled by an easy-to-use hand-wired remote. The patient can adjust the chair himself if necessary. In addition, the HEMA+ can be equipped with an optional emergency handle that allows the chair to be manually moved into the Trendelenburg position. This feature is particularly useful in the event of patient discomfort, as it eliminates the need for medical personnel to transfer the patient to a stretcher. The HEMA+ chair thus offers a practical way to reduce occupational injuries associated with moving patients.
The Foster reclining patient chair also includes features that focus on patient wellness and healthcare professional comfort. For example, the chair's backrest offers built-in lumbar support, and the armrests are curved to reduce patient shoulder fatigue. To allow medical personnel easy access to the patient, the armrests also swivel and retract vertically to facilitate the patient transfer. The Foster chair offers several other ergonomic features. For example, the chair's controls can be positioned on the left or right side. The wheel brake and steering levers are accessible from either side. Cleaning the chair is also easier, thanks to the removable seat and backrest covers. In short, these many features make the Foster treatment chair a recommended medical equipment for emergency services.
Want to know more about the features of our medical equipment?
Check out our blog to learn more!
Medical equipment for the emergency department: height-adjustable tables
Adjustable-height tables are recommended medical equipment for emergency department reception areas. These tables are ideal for workstations that multiple employees share. An attendant starting his or her shift can adjust his or her workstation to the appropriate height at the touch of a button. Another advantage of height-adjustable tables is that they make it easier to change positions by allowing comfortable working in three positions: sitting, standing, and sitting.
Frequent position changes while working help eliminates the pain of sitting for long periods. In addition, the height-adjustable table's control lever can be programmed to change color to alert the worker that it is time to change positions. In addition to emergency room reception areas, height-adjustable tables are suitable for many other applications in the medical field. For example, they are also used in blood collection centers and medical laboratories.
Finally, it is useful to know that height-adjustable tables can be custom designed to adapt to the space constraints of each healthcare environment fully.
Other medical equipment for the emergency service
In combination with a height-adjustable workstation, it is worthwhile to use an ergonomic chair. These chairs offer several adjustment options to ensure that every employee is comfortable, no matter the task. Ergonomic medical stools can also be used, such as the HS PONY SADDLE stool, which offers a saddle-shaped seat to help the user maintain an upright posture. The use of ergonomic chairs and stools by healthcare professionals helps reduce the risk of developing chronic pain. Many healthcare professionals also enjoy working from a mobile workstation on wheels, such as the upCentric portable workstation. This sturdy, height-adjustable workstation is designed to move from room to room easily.
Hospital emergency departments inevitably include a waiting room. It is recommended that you choose waiting room furniture that is durable and easy to clean. Foster's medical furniture collection includes chairs, armchairs, benches, and tables for use in waiting rooms. This modular furniture is available in a variety of configuration options: with or without armrests; with backrests that are easily cleaned and resistant to cleaning products; in single, loveseat, or triple formats; etc. It is, therefore, easily adaptable to various care environments. The Tuck Collection stacking chairs are another example of sturdy medical furniture that can be used in waiting rooms. These chairs are made of a solid one-piece metal frame that can support weights up to 325 pounds. They are available in several colors and upholstery options.