Medical equipment for medical office
The choice of furniture in a medical office
The medical office is where the doctor receives patients for a medical consultation. The proper design of a physician's office helps create a caring environment in which patients feel comfortable. Thoughtful choices in lighting, seating, styles, and colors result in a reassuring, welcoming, and warm setting for patients.
While patient comfort is important in the medical office, the comfort of the medical professionals is equally important. Doctors spend many hours each day in their medical offices. The choice of office furniture used daily is, therefore, essential to ensure the comfort and well-being of healthcare professionals.
Opting for ergonomic office furniture, such as an adjustable work table with an ergonomic chair or stool, has several advantages: improved concentration, increased productivity, reduced chronic pain, and much more.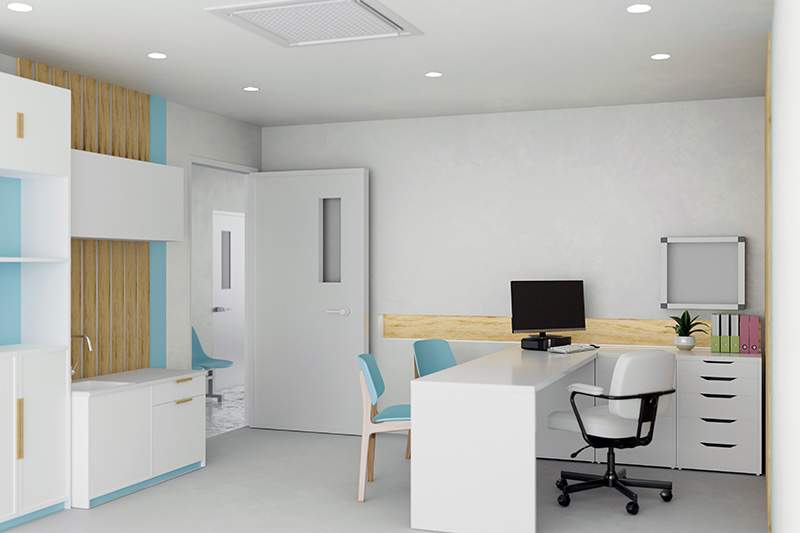 Are you looking for a brand of medical equipment?
IBIOM distributes medical equipment from several brands recognized for their quality and ergonomics, including ergoCentric, Humanscale, LIFEFORM and more
The benefits of ergonomic furniture for medical offices
Ergonomic furniture for doctors' offices includes several pieces of equipment; an adjustable work table and an ergonomic office chair are the most important. Adjustable work tables are height-adjustable desks, often equipped with electric mechanisms. The main advantage of these ergonomic desks is that they allow you to work in a seated and standing position. Thus, with an adjustable desk, the healthcare professional can change his or her work position during the day, easily alternating between sitting and standing. Varying positions while working provides several benefits, including stimulating blood circulation, improving productivity, and reducing fatigue and back pain associated with sitting for long periods. Height-adjustable desks are also great for other work areas within a medical office, such as the reception area. Often, several employees share the same desk from one shift to the next. With an adjustable ergonomic desk, each employee can easily adjust their workstation to suit their height and thus work in an appropriate posture. Ergonomic desks are a way to prevent musculoskeletal disorders among administrative staff in medical offices by allowing each employee to work at the desired height.
When it comes to ergonomic office chairs, whether combined with a fixed-height table or an adjustable-height table, they also have several benefits for healthcare professionals. These office chairs offer many adjustment options to help promote a comfortable and ergonomic posture throughout the day. For example, the height and tilt of the seat and backrest can be adjusted, the chair's tilt tension can be increased or decreased, etc. Maintaining a good sitting posture helps prevent back pain. Many ergonomic office chairs are also designed to allow various postures, even while sitting. These chairs are a way to encourage movement during the workday, even if it is necessary for the healthcare professional to remain seated at the desk. In short, by encouraging movement and adjusting easily to the user, ergonomic medical office furniture, whether it's an adjustable table or a task chair, helps reduce the fatigue associated with static sitting. It also contributes to the prevention of musculoskeletal disorders among healthcare professionals.
Do you have specific needs?
Our team of professionals at Ibiom is there to advise you and guide you towards the range of products best suited to your needs.
Do you have specific needs?
Our team of professionals at Ibiom is there to advise you and guide you towards the range of products best suited to your needs.
Medical equipment for medical offices: adjustable tables and workstations
Allowing for both sitting and standing and promoting movement throughout the day, adjustable sit-stand desks and height-adjustable tables improve the ergonomics of the medical office workstation. The height of these desks can be adjusted quickly and effortlessly using electric mechanisms controlled by easily accessible buttons. In addition to excellent ergonomics, height-adjustable workstations also include features that focus on safety and infection control. For example, they come standard with an anti-collision system, and their tops are made of a coating resistant to the cleaning products commonly used in healthcare facilities. Height-adjustable workstations can also come with various ergonomic accessories, such as an anti-fatigue mat. The anti-fatigue mat helps reduce pressure on the feet, knees, and back when standing, as well as keyboard and monitor stands. It's also worth noting that height-adjustable tables can be custom-designed to fit the unique space constraints of each medical office.
Secondly, portable workstations, also adjustable in height, are interesting medical equipment for health professionals who are called upon to move frequently from one room to another. It is also an option for those who want to work from multiple locations in their office. With room for a laptop, these small, sturdy, and lightweight workstations are easy to move around and allow for both sitting and standing work. As for fixed-height work tables, they remain an interesting solution for medical offices, especially if combined with an ergonomic office chair. These tables come with several configuration options. For example, the tabletop can be square, rectangular or circular. The table can be equipped with legs at the four corners or central base legs. If the physician frequently sees patients with limited mobility, the pedestal table may be an appropriate choice, as it is less cumbersome and easier to access for patients in wheelchairs.
Want to know more about the features of our medical equipment?
Check out our blog to learn more!
Medical equipment for medical offices: ergonomic chairs and consultation chairs
A wide range of ergonomic chairs is available for medical offices. These office chairs have numerous adjustment options to allow healthcare professionals to adopt an ergonomic and comfortable working posture. Depending on space constraints and the healthcare professional's needs, it is possible to choose a chair with or without armrests, with or without a footrest ring, with or without a neck cushion, etc. In short, a wide range of configurations and customizations are possible to design a chair that meets the user's specific needs. Ergonomic medical stools are also available for healthcare professionals who want more freedom of movement.
When it comes to chairs for patients in the doctor's office, the TUCK collection is an attractive choice. TUCK chairs feature a steel seat and frame in various colors that can be matched, adding vibrancy to the healthcare environment. In addition, several configuration options are available: upholstered seat and back, with or without armrests, chairs on casters, stackable chairs, etc. This makes TUCK chairs very versatile and suitable for waiting rooms, cafeterias, and meeting rooms.
Other medical equipment for the medical office
If the doctor performs medical examinations in his or her office, access to an examination table is often necessary. The ECHO-FLEX 4400-DO treatment table is often used as an examination table in medical offices. This ergonomic treatment table is electrically height adjustable from 24.5″ to 36.5″ and has a 0° to 80° tilt backrest. In addition, the table's mattress is curved to allow the healthcare professional to work near the patient. If the physician occasionally performs gynecological examinations, the ECHO-FLEX 4400-GY treatment table is recommended, as it has a retractable leg section and is equipped with removable gynecological stirrups.