Medical chairs and stools
Medical chairs and stools
Medical chairs and stools are medical equipment used daily by healthcare professionals to perform a variety of medical care, treatments, and examinations. Medical chairs and stools are used in many healthcare facilities: hospitals, private medical offices, outpatient clinics, blood collection centers, medical offices, and many others.
Depending on their features, medical chairs, and stools are suitable for different uses. For example, chairs without armrests and with a small seat size are often used as ultrasound chairs since they allow the medical professional to move closer to the examination table and work close to the patient. The height of the chair or stool is another essential aspect. For example, a high medical chair provides comfortable seating for healthcare professionals who work at a high table, as is often the case in medical laboratories. Some chairs are also designed to accommodate both sitting and standing work.
They are ideal for use with height-adjustable workstations. In short, there are several criteria to consider when choosing a medical chair or medical stool that is right for the job.
However, whether it is a chair or a stool, it is important to choose ergonomic medical equipment.
Indeed, using an ergonomic chair or stool has several advantages for healthcare professionals, including reducing chronic pain and preventing musculoskeletal disorders.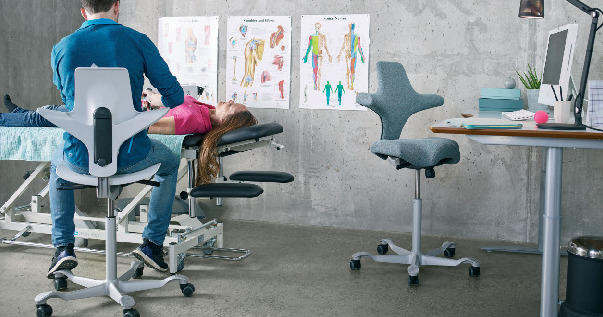 Do you work in a specific medical field?
Whether cardiology, oncology, radiology, gynecology, ... Ibiom offers a wide range of medical equipment.
The benefits of ergonomic medical chairs and stools
Ergonomic chairs, sometimes called orthopedic chairs, are designed for comfortable sitting for several hours. Another key feature of ergonomic medical chairs is that they offer many adjustment options.
Depending on the model chosen, it is possible to adjust, among other things, the height of the seat and armrests and the tilt and tension of the backrest. Thus, with ergonomic medical equipment, the healthcare professional can easily adjust his work chair according to his morphology and task. Proper posture improves comfort at work and helps prevent chronic pain and musculoskeletal disorders in healthcare professionals. Some orthopedic medical chairs are also designed to meet the concept of active sitting, allowing the healthcare professional to remain in motion even while seated.
By using an active sitting medical chair, the healthcare professional can make light movements throughout the day and engage different muscles, even if they must remain seated. The main benefits of active sitting are improved blood circulation and muscle strengthening. Among other things, this slows the onset of fatigue and reduces the risk of muscular injuries. Depending on the characteristics required, several models of ergonomic medical chairs and stools are available for health professionals.
Do you have specific needs?
Our team of professionals at Ibiom is there to advise you and guide you towards the range of products best suited to your needs.
Do you have specific needs?
Our team of professionals at Ibiom is there to advise you and guide you towards the range of products best suited to your needs.
Ergonomic medical chairs
The Model 200 medical chair is recommended for healthcare professionals looking for an ergonomic and comfortable seat at an affordable price. Available in various height options, this ergonomic chair can accommodate medical personnel working at a high table or adjustable height station. Furthermore, it features a footrest ring to ensure leg comfort when standing. In addition, since it has no armrests, it is recommended as an ergonomic ultrasound chair. The Model 200 chair is compact and allows the medical technician to get closer to the patient during the ultrasound. The 3-in-1 height adjustable chair is a versatile medical chair designed to replace three different seats, hence the name "3-in-1". Equipped with a backrest and a footrest ring, this medical chair allows for three working positions: sitting with a backrest, sitting-standing, and perching. And because it is height adjustable from 19.25″ to 35.5″, the 3-in-1 medical chair can be used at both fixed-height and counter-height tables and adjustable-height workstations.
The HÅG Capisco line of medical chairs is recommended for healthcare professionals who want to enjoy the benefits of active seating. The unique design of the back and seat of the HÅG Capisco chairs allows for variations in position throughout the day, allowing for front, side, and even upside-down seating while maintaining an upright and comfortable posture. Two models of Capisco chairs are available, the Capisco 8016 and the Capisco Puls 8010. The Capisco 8016 is recommended for healthcare professionals and medical staff who spend long hours sitting. The Capisco Puls 8010 is a simplified version of the previous model. It is recommended for shorter work sessions. Depending on the cylinder height chosen, HÅG Capisco medical chairs can be used with counter height desks and adjustable height desks designed to easily switch between sitting and standing positions.
Want to know more about the features of our medical equipment?
Check out our blog to learn more!
Ergonomic medical stools
Medical stools can be described as chairs without backs or armrests. Usually swiveling and equipped with casters, medical stools are stable, lightweight, and space-saving. These characteristics mean that this medical equipment provides much freedom of movement compared to conventional medical chairs. For example, by using an ergonomic medical stool that swivels, the healthcare professional can easily move around the examination table to examine the patient.
Ergonomic medical stools also have one important feature in common: they all offer a saddle-shaped seat. Inspired by the riding saddle, this seat provides several advantages for healthcare professionals. When a healthcare professional sits on a saddle stool, their pelvis is forward, placing their spine in a neutral position, and their legs are at an open angle, improving blood circulation. This posture helps reduce the risk of muscle injury and prevent back pain associated with sitting for long periods. Finally, medical stools are also adjustable in height to allow healthcare professionals to work comfortably, regardless of the task at hand.
The leading adjustable medical stools recommended for healthcare professionals are the HS Pony Saddle 200 FR and the IBIOM Saddle. The Capisco Saddle 8105 and Capisco Puls Saddle 8001 ergonomic stools are also recommended for use in the medical sector. They are the backless and armless versions of the Capisco HÅG medical chairs.
Other ergonomic medical equipment
In addition to an ergonomic medical chair, it can be interesting to use a workstation with adjustable height. Adjustable in height using electric mechanisms, these workstations allow healthcare professionals to work at the desired height according to their morphology and task. Height-adjustable desks are, therefore, ideal for environments where several healthcare professionals must share the same workstation. In addition, since they allow for both sitting and standing work, height-adjustable workstations encourage the variation of positions throughout the day. Alternating between sitting and standing stimulates blood circulation, improves productivity, and reduces fatigue and back pain associated with prolonged sitting.