Medical equipment for seniors' residences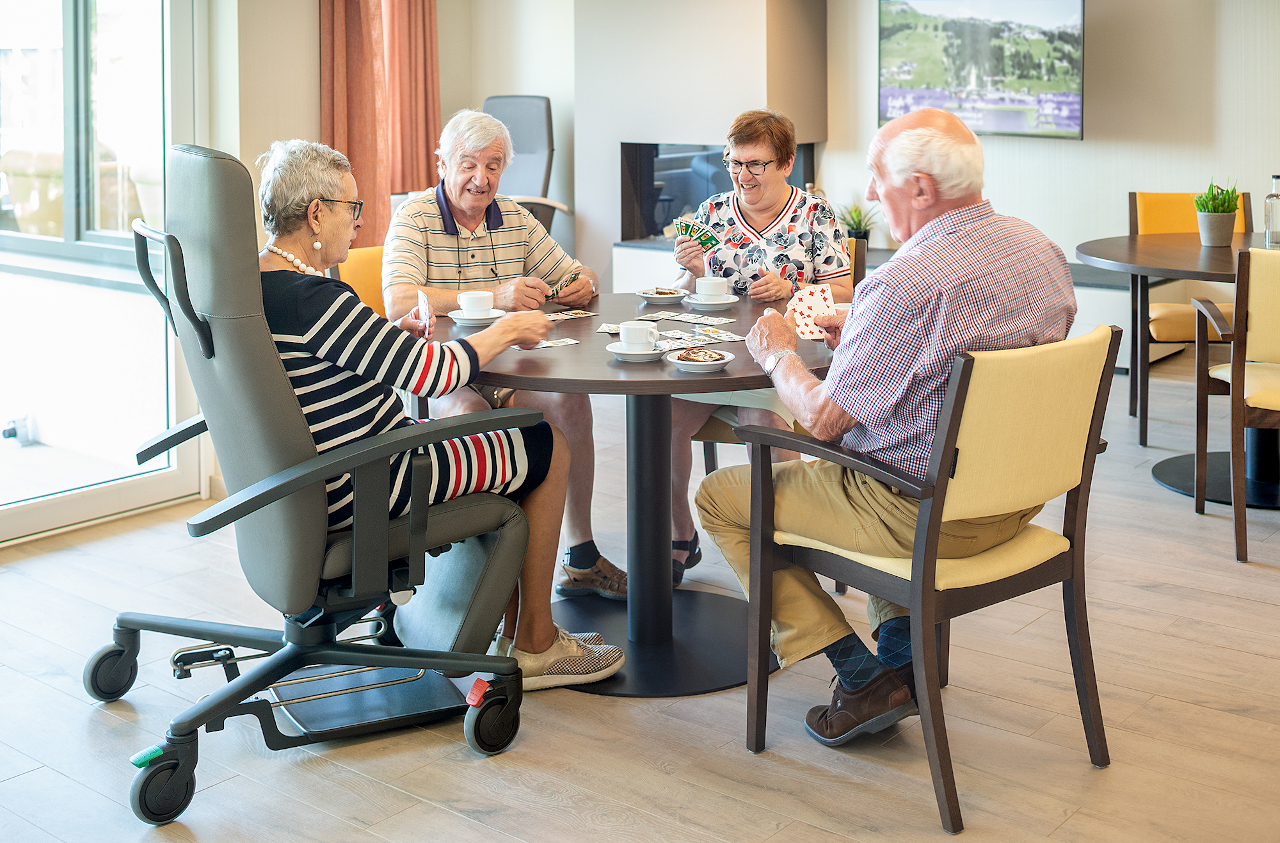 Medical equipment for seniors' residences includes a selection of geriatric chairs, mobility aids, dining room furniture and orthopedic cushions. Geriatric chairs for seniors' residences are designed to provide increased comfort and promote autonomy of movement for the elderly.
Some chairs offer features that facilitate resident care, while others are more focused on relaxation. Mobility aids can be installed in the bedroom, living room, bathroom or common areas to improve resident safety and independence. Dining room furniture includes a range of tables and chairs that are durable, safe and easy to clean.
Orthopedic cushions, namely gel and molded foam cushions, are used to complement the seat of a wheelchair, a care chair or a rocking chair. These cushions help prevent postural problems and pressure sores from developing in older people who remain in a seated position for long periods of time.
To learn more about our selection of medical equipment for seniors' residences and to obtain personalized advice, do not hesitate to contact a member of our team.
Are you looking for specific medical equipment?
Ibiom has ergonomic medical equipment for all types of health care establishments: hospitals, medical clinics, medical practices, seniors' residences and others.
Chairs for seniors' residences
Senior living chairs are geriatric chairs designed to provide optimal comfort during prolonged sitting. This makes them a recommended medical device for seniors with mobility loss who spend a large portion of the day sitting. Geriatric wheelchairs offer features that promote the independence of movement of an older adult who is losing mobility. Many seniors living chair models are reclinable and can be used in the sitting, reclining, or lying position. Geriatric chairs allow seniors to perform many activities without the need to move around or exert significant physical effort. Some models of chairs for seniors' residences are also equipped with wheels and a carrying handle. These geriatric chairs can be moved from room to room, for example, from the resident's bedroom to the dining room, to allow the resident to eat with other residents. Finally, various accessories can be added to geriatric chairs to meet the specific needs of the seniors in the senior living facility. Some chairs can also be fitted with a solute rod or folding armrests.
Different models of senior living chairs are suggested based on the senior's health condition and mobility level. For seniors who are significantly limited in their movement or require frequent care, the suggested chairs are geriatric care chairs. Models available are the INO multipurpose care chair, the Laguna geriatric care chair, and the Foster patient recliner. These chairs offer features that help caregivers provide the necessary care to residents. For seniors without extensive care and looking for seating that offers long-term comfort, suggested chairs are recliners or bedroom chairs. The models offered are the Echo recliner, the Foster recliner, the Foster bed chair, and the Foster bedroom chair. These geriatric chairs improve seniors' comfort and independence of mobility in senior living facilities.
Chairs for the dining room of senior residences
The dining room in senior living is a room that plays an essential role in residents' daily lives. It is a gathering place where seniors can socialize and share a meal. Mealtime in the dining room contributes to the well-being of seniors in many ways. It helps prevent social isolation by encouraging socialization with other residents, provides a landmark by becoming part of the resident's routine, and is an important source of physical exercise for many residents. The dining room plays a vital role in the lives of residents, and it is essential to choose the right furniture. Several criteria can be considered when choosing chairs for the dining room. The main criteria to consider include the level of comfort provided by the chair, the space constraints to be respected, the quality and durability of the chair, the warranty offered by the manufacturer, the ease of maintenance and cleaning of the chair, as well as the way the chair fits in with the rest of the dining room decor.
The recommended dining room chairs for senior living facilities are chairs from medical equipment manufacturer Allseating. The two models of dining chairs are the Tuck and the Rainbow chairs. These chairs have several great features, including a wide range of colors for the seat and frame and several options for size, material, and upholstery for the seat and back. Tuck and Rainbow chairs are known for their durability, quality, and comfort. They also come with great warranties. Fixed-height tables are also available for senior living dining rooms. These tables are available with various table top and base options and include features that focus on resident safety, such as rounded table corners.
Do you have specific needs?
Our team of professionals at Ibiom is there to advise you and guide you towards the range of products best suited to your needs.
Do you have specific needs?
Our team of professionals at Ibiom is there to advise you and guide you towards the range of products best suited to your needs.
Orthopedic cushions for seniors' residences
Orthopedic cushions are medical equipment used in senior residences to prevent postural problems and pressure sores in seniors who spend a large part of the day sitting. Prolonged sitting can lead to the development of various postural issues in seniors. Because they are designed to provide increased postural support, orthopedic cushions help reduce the development of these problems in seniors. Prolonged sitting can also cause pressure ulcers in seniors. Pressure ulcers are painful for those who suffer from them, and their treatment requires a great deal of time and effort on the part of caregivers. Because they are designed to dissipate heat and reduce pressure points during prolonged sitting, orthopedic cushions are one way to prevent pressure ulcers in seniors' residences.
There are two main types of orthopedic cushions available for seniors' residences: gel cushions and molded foam positioners. Gel cushions are available in two models, the cube gel cushion and the flat gel cushion. Gel cushions are easily adapted to different types of surfaces and can be used with a wide variety of seating, including wheelchairs, rocking chairs, bedroom chairs, and dining chairs. Molded foam positioners are available in two models, the ViscoComfort positioner and the ViscoComfort positioner with integrated gel. The molded foam positioners are designed to provide increased postural support, limit moving vibration, and distribute pressure points. Gel cushions and molded foam positioners are all manufactured in Quebec to high-quality standards. They are available in various thickness options and in several sizes to accommodate all types of seating.
HCP Mobility Aids for Seniors' Residences
HCP mobility aids are support and mobility accessories used in senior living facilities to prevent falls and injuries to residents with mobility loss. Other benefits of installing HCP mobility aids in senior living facilities include improving residents' quality of life and increasing their independence. To ensure the safety and comfort of seniors, it is advisable to choose ergonomic support and mobility aids. Ergonomically designed aids, such as HCP mobility aids, have features that make them easier to use and safer. Another advantage of HCP mobility aids is their versatility. Many of the HCP mobility aid line accessories can be configured to fit different types of rooms and uses. Some HCP mobility accessories, such as bathroom grab bars, are also retractable, so they don't get in the way of residents who don't require their use. In short, because of their many benefits, HCP mobility aids are recommended medical devices for senior living facilities.
HCP mobility aids can be installed in various rooms to improve resident mobility and safety. The primary HCP medical equipment installed in bedrooms are bed rails, safety poles, and trapezes. These accessories help seniors with mobility loss get out of bed. The primary mobility aids installed in the living room, dining room, and common areas are safety poles and grab bars. These aids support seniors in their daily movements and promote independence. The bathroom is a room where the safety of the elderly is essential, as the risk of tripping and slipping is exceptionally high. HCP's line of mobility aids includes several accessories to improve bathroom safety. The main medical equipment recommended for the bathroom are bath benches, shower seats, safety posts, and grab bars.