Founded by a healthcare professional
Founded in Montréal in 1978, IBIOM Instruments began as a manufacturer of video stations for radiology training. Thanks to an early international vision and a quality product, those video stations were sold on three continents.
IBIOM became the company it is today because founder André Choquette saw a problem and decided to fix it: as head of the cardiology department at Sainte-Justine Hospital, he realized that cardiology technicians were experiencing frequent—and, in some cases, serious—workplace injuries caused by stretching and reaching during patient exams.
In partnership with the Université de Montréal and the cardiology department at Sainte-Justine Hospital, Choquette studied the problem. But, although a solution was apparent, no companies produced a treatment table that could alleviate the source of the injuries. So Choquette decided he would design and produce a more ergonomic treatment table, and three years later the first ECHO-FLEX treatment table was rolled out: first in Sainte-Justine Hospital and then more broadly.
In 2007, Choquette sold the company to Jasmin Bibeau and Stéphane Mongeau, who moved the company from Sainte-Adèle to Sherbrooke. Since taking over, they have built on Choquette's legacy by creating additional ECHO-FLEX models and expanding the ergonomic medical furniture offering with a range of treatment chairs and customized workstations.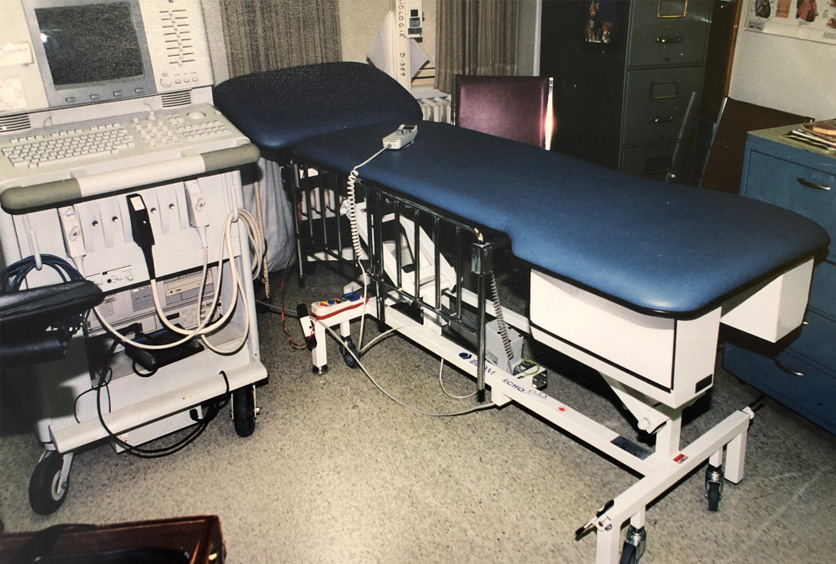 1995: the original ECHO-FLEX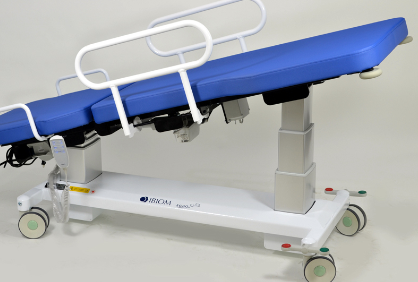 Focused on HCPs and patients
Our mission as a company is to design, manufacture, and sell high-quality ergonomic products for healthcare professionals and patients.
That may sound straightforward, but achieving it requires the commitment and skills of our entire team every day. It also means thinking about who will use each of our products and considering their ergonomic needs.
For example:
Our ECHO-FLEX treatment tables are designed with the technician as the primary user. Patients will only be on the treatment table for the length of their exam, but technicians will spend hours adjusting the treatment table for each patient and then scanning. For the patient, we created a comfortable treatment table that includes features to make the exam easier (such as stirrups that are more flexible and comfortable, and stay warmer than conventional stirrups). For the healthcare professional, we have minimized the risk of injury by limiting the amount of reaching required during each kind of exam, and by making adjusting the patient quick and simple.
Our TRIAD treatment chair is designed with two primary users: the healthcare professional who will interact with the chair day in and day out, and the patient who will spend hours in the chair during treatment. For the patient, we created the most comfortable chair possible. The foam of each cushion is adjusted individually for optimal density, and we have worked with a positioning specialist to ensure the contours and armrests help the patient achieve a position that is comfortable and ergonomic for the duration of treatment. For the healthcare professional, we have made the chair easy to move and adjust, eliminating the risk of straining muscles or awkward body positions when interacting with their patients.
We work hard to ensure each of our products offers optimal ergonomics for all potential users.