Medical equipment for oncology
Oncology, also known as "cancerology," is a discipline of medicine that deals with the study of cancer and its treatment. Oncologists diagnose different types of cancer, prepare treatment plans for patients and monitor the progress of the disease.
The main treatments used in oncology are chemotherapy, hormone therapy, immunotherapy, radiation therapy, and targeted therapies.
These treatments are usually performed in hospitals, oncology clinics, and cancer centers using specialized oncology medical equipment. The care team that manages the patient is made up of several specialists, including hematologists and oncologists, oncology nurses, and social workers.
At the end of the day, it is important to choose oncology medical equipment that ensures the patient's comfort throughout treatment and that of the healthcare professionals in performing their treatment-related tasks.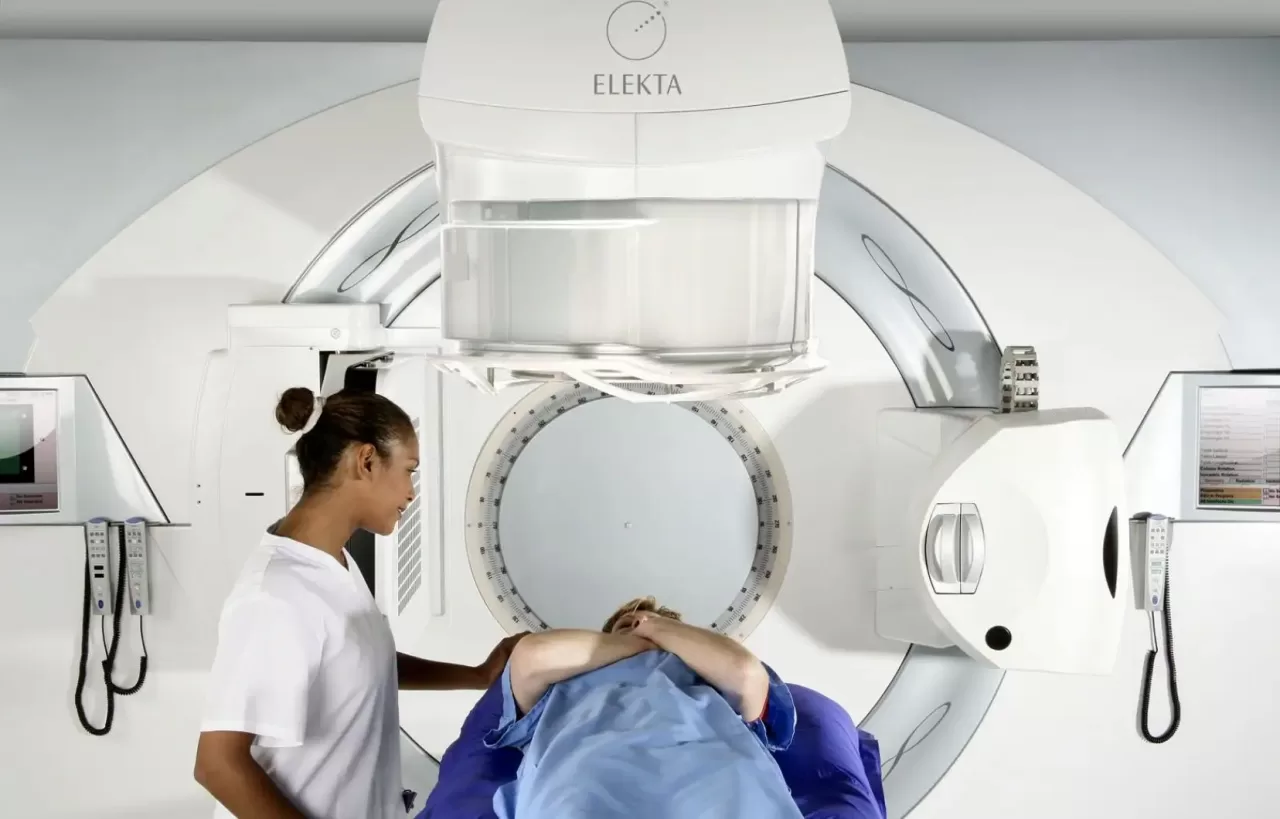 Are you looking for a brand of medical equipment?
IBIOM distributes medical equipment from several brands recognized for their quality and ergonomics, including ergoCentric, Humanscale, LIFEFORM and more
Medical equipment for oncological treatments
Medical professionals use oncology medical equipment to administer cancer treatments. This includes specialized medical equipment and medical supplies. Healthcare professionals also use medical furniture adapted to oncology in cancer treatment rooms. This furniture includes, among other things, treatment chairs and recliners. Cancer treatments often require the patient to spend long hours sitting. The length of the treatment session varies from patient to patient. For example, a chemotherapy session can last anywhere from 30 minutes to 8 hours.
Because some treatments are long, hospitals and cancer centers need to have treatment chairs designed to provide adequate comfort for the patient throughout the treatment. For example, adjustable treatment chairs are preferred because they allow patients to change their position to relieve muscle cramps and numbness easily. Using a treatment chair with sufficient lumbar support and padded cushions is also recommended. The TRIAD treatment chair is among the medical equipment recommended for use in oncology.
Do you have specific needs?
Our team of professionals at Ibiom is there to advise you and guide you towards the range of products best suited to your needs.
Do you have specific needs?
Our team of professionals at Ibiom is there to advise you and guide you towards the range of products best suited to your needs.
Medical equipment for oncology: the TRIAD treatment chair
The TRIAD treatment chair is a commonly used medical equipment in healthcare facilities offering cancer treatment. This chair has been specially designed to ensure patient comfort over long periods. This makes it an ideal chair for hospitals and oncology clinics where chemotherapy and immunotherapy are performed. To ensure patient comfort, the TRIAD treatment chair's cushions have low-pressure points, are stuffed with injected viscose foam, and provide excellent lumbar support. The chair's armrests are synchronized with the backrest, and they can swivel inward to allow shorter patients to sit comfortably. The footrest of the chair is adjustable with an electric mechanism commonly called hand control. This allows the patient to relieve cramping or numbness on their own. In addition, a mini-exercise bike can be installed on the chair's footrest for patients who wish to exercise during their treatment.
The TRIAD treatment chair can also be equipped with a removable swivel shelf, which can be placed on the left or right side of the chair, depending on the patient's needs. A small retractable shelf can also be installed on each armrest to allow, for example, the patient to keep personal belongings close by. In short, these many features show that the TRIAD treatment chair has been designed to ensure the patient's well-being during their oncology treatment.
The TRIAD treatment chair offers several other useful features for healthcare professionals. For instance, this chair comes standard with electric Trendelenburg functionality. In the event of patient discomfort, medical personnel can recline the chair to the -10° Trendelenburg position in 8.8 seconds, with no effort or risk of falling.
The TRIAD treatment chair is also equipped with four 5″ dual wheels that can be locked with a central brake system and a fixed carrying handle located on the back of the backrest. This allows medical personnel to move the chair when needed easily. The TRIAD treatment chair is also equipped with electric adjustment mechanisms controlled by a hand-wired remote. The chair's height can be adjusted from 20″ to 28″. The backrest reclines from 0° to 80°, and the leg section is adjustable from 0° to 50°. Using the remote control helps reduce the physical effort required to set up the patient. The materials used to manufacture the TRIAD treatment chair are resistant to the cleaner disinfectants commonly used in hospitals. In addition, the chair's cushions are seamless, making it easier to prevent infections. In short, the TRIAD treatment chair offers several features designed to facilitate the work of healthcare professionals during the oncological treatments. It should be noted that this treatment chair is also suitable for other medical applications, such as nephrology and dialysis.
Want to know more about the features of our medical equipment?
Check out our blog to learn more!
Medical equipment for oncology: the Foster recliner
The Foster patient recliner is another example of medical equipment used in oncology. It is a chair suitable for treatments requiring the patient to maintain a sitting position for long periods. The Foster recliner offers several features that focus on patient comfort: curved armrests, molded foam seat, integrated lumbar support, ergonomic footrest, and so on. This chair not only ensures patient comfort throughout treatment but is also designed to facilitate the work of medical staff. For example, the armrests swivel to allow lateral access to the patient.
The Foster recliner also offers other interesting features that make it versatile medical equipment. For example, it easily converts into a bed, allowing a patient's loved one to stay with them longer. It is a piece of medical equipment occasionally used in patient rooms. The Foster recliner can also be used as a geriatric chair, especially in seniors and long-term care facilities.
Other medical equipment used in oncology
Hospitals and oncology clinics also use other specialized medical equipment to treat cancer patients. For example, facilities that provide radiation therapy require treatment tables, such as the ECHO-FLEX series, and positioning tables, such as the XYZ positioning table. In addition, oncologists often use medical imaging (radiography, ultrasound, magnetic resonance imaging, etc.) to diagnose cancer.
These examinations require specialized medical equipment, including treatment tables and medical imaging chairs. One model of medical imaging chair often used is the ERGO-XR2 radiology chair. It facilitates the positioning of patients with limited mobility when taking X-rays. When it comes to treatment tables, the ECHO-FLEX series is often recommended for medical imaging examinations because of its ergonomic features.