Geriatric chairs in seniors' residences
Geriatric chairs in seniors' residences
Due to aging, illness, or frailty, seniors in senior living facilities experience a loss of mobility and often spend many hours seated. However, standard chairs and recliners are not designed to provide the postural support, comfort, and independence that residents need.
Geriatric chairs, with features that help seniors be as comfortable as possible while sitting for extended periods, are an essential piece of furniture in senior living facilities. Ranging from recliners to full-care chairs, geriatric chairs typically come with various options.
It is essential to consider multiple criteria when choosing a geriatric chair that meets the needs of the senior, depending on their health status and level of mobility and independence.
It is also important to consider the features of the chair that will facilitate the work of the caregivers in the senior's residence.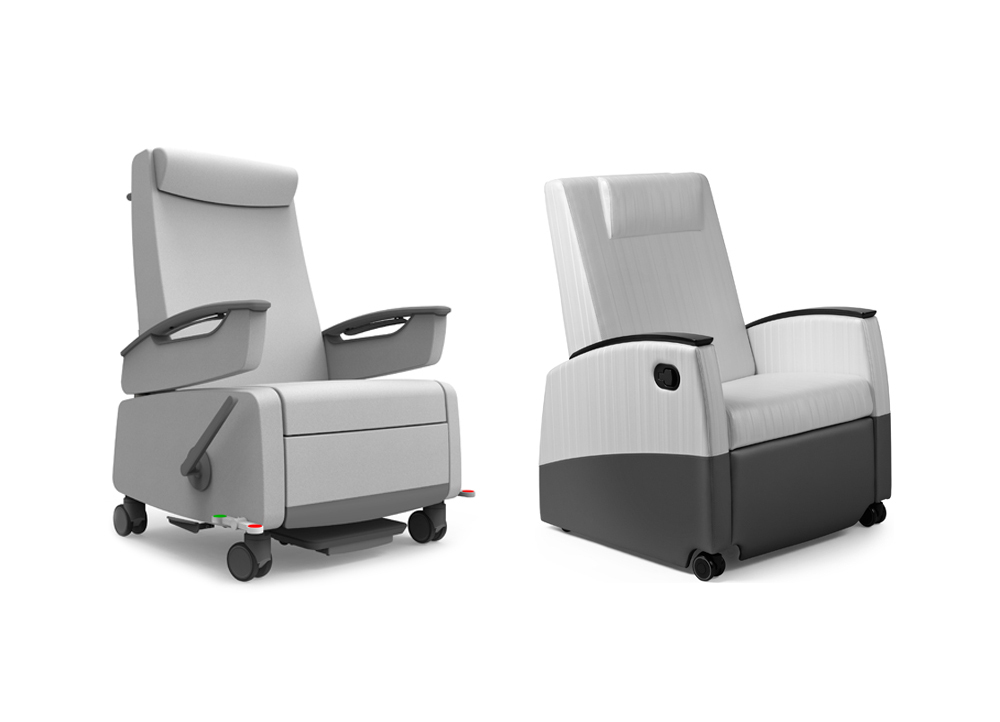 Are you looking for a brand of medical equipment?
IBIOM distributes medical equipment from several brands recognized for their quality and ergonomics, including ergoCentric, Humanscale, LIFEFORM and more
Choosing a geriatric chair for the senior's residence
An important feature to consider when choosing a nursing or recliner chair for the senior living facility is the level of independence it provides the senior. Geriatric chairs are generally designed to allow residents to change their position with minimal effort. For example, many senior chairs are reclining and have a footrest.
Depending on the chair model chosen, reclining is done manually or by electric mechanisms. A recliner allows the senior to sit comfortably for activities such as reading, eating, talking, or watching television. It should also allow the senior to lie down easily for a moment of relaxation or a nap without moving or making significant physical efforts. Then, the mobility of the chair is another element to consider. Many geriatric wheelchairs have wheels and a carrying handle to facilitate movement from the bedroom to the living room or dining room.
Finally, the accessories that can be added to the geriatric chair are another aspect to consider. Many chairs are designed in a modular fashion and can therefore evolve according to the health status of the elderly person. For example, depending on the chair model chosen, it may be possible to add an IV pole or change the armrests to swivel or fold without purchasing new equipment.
Do you have specific needs?
Our team of professionals at Ibiom is there to advise you and guide you towards the range of products best suited to your needs.
Do you have specific needs?
Our team of professionals at Ibiom is there to advise you and guide you towards the range of products best suited to your needs.
Recommended geriatric chairs for seniors' residences
There are several models of geriatric chairs available for seniors' residences. Some models are more care-oriented. These are the geriatric care chairs, such as the INO chair, the Laguna chair, and the Foster patient recliner. They are recommended especially for seniors with very limited movement or requiring much care. These chairs have features that ensure the comfort and well-being of seniors with limited mobility while making the work of the caregiver easier. Other models of chairs are more focused on relaxation. These include the Echo chair, the Foster recliner, and the Foster bedroom chair. Depending on the configuration and accessories chosen, some models are positioned as an in-between, able to evolve from a recliner to a full care chair depending on the senior's needs.
Whether care-oriented or relaxation-oriented, geriatric chairs all feature an ergonomic design to ensure comfort for seniors who sit for long periods. Key ergonomic features include: a padded seat and backrest with lumbar support for long-lasting comfort, angled armrests to reduce shoulder fatigue, a tilted backrest and footrest (sometimes to a reclining position, as with the Foster recliner) for positional variation, and more. These geriatric chairs are also easy to clean and maintain to ensure durability and facilitate infection control. For example, on most Foster chairs, the cushion covers are removable for easy cleaning.
Want to know more about the features of our medical equipment?
Check out our blog to learn more!
Other medical equipment for seniors' residences