Medical equipment for day clinic
Medical day clinics are healthcare facilities that provide ambulatory care, which means care that does not require the patient to be hospitalized. The patient comes to the medical day clinic for treatment or diagnostic testing and returns home the same day.
Medical examinations and patient care in the medical day clinic include, but are not limited to, blood tests, intravenous antibiotics, post-operative wound care, suture removal, and radiological examinations. Healthcare professionals use specialized medical equipment to provide this care and treatment to patients. This equipment includes treatment stretchers, tables, chairs, and reception and retrieval stations.
To prevent occupational injuries to medical staff in medical day clinics, it is recommended that ergonomic medical equipment be selected for the task.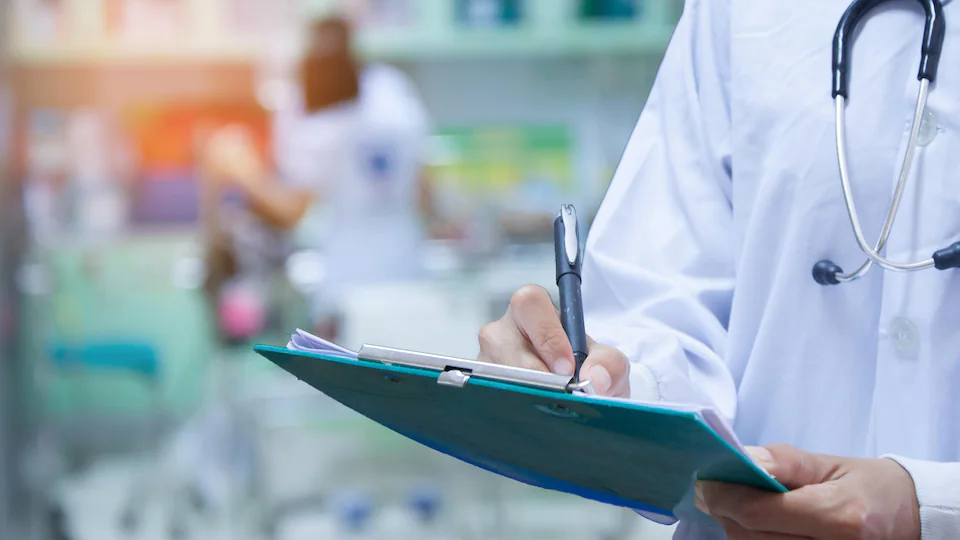 Are you looking for a brand of medical equipment?
IBIOM distributes equipment from several brands recognized for their quality and ergonomics, including ergoCentric and Allseating.
The Importance of Using Ergonomic Medical Equipment in Medical Day Clinics
In performing their daily tasks, healthcare professionals are often required to adopt awkward postures and are at risk of occupational injury. For example, medical imaging technicians who perform echocardiography examinations must perform repetitive motions, reaching, and stretching.
These movements can lead to musculoskeletal disorders such as back pain, wrist and shoulder pain, etc. Using ergonomic medical equipment designed to allow healthcare professionals to adopt the proper posture for the task at hand can reduce this risk of occupational injury. In addition, ergonomic medical equipment also has the advantage of offering optimal comfort to patients. For example, if a patient visits the outpatient clinic to receive treatment for a few hours, the treatment chair must allow the patient to maintain an adequate and comfortable position throughout the treatment.
Several pieces of ergonomic medical equipment are recommended for use in medical day clinics, including the TRIAD treatment chair, the HEMA+ treatment chair, the ECHO-FLEX treatment tables and the height adjustable workstations.
Do you have specific needs?
Our team of professionals at Ibiom is there to advise you and guide you towards the range of products best suited to your needs.
Do you have specific needs?
Our team of professionals at Ibiom is there to advise you and guide you towards the range of products best suited to your needs.
Medical equipment for day clinic: treatment chairs
There are several models of ergonomic treatment chairs suitable for use in outpatient clinics. The TRIAD treatment chair was designed for long-term treatments such as chemotherapy and dialysis. Viscose foam cushions molded to reduce pressure points provide excellent patient comfort. It also has several adjustment options to help the patient achieve a comfortable posture.
Adjustments are made using electric mechanisms controlled by a hand-wired remote, making it easy for medical staff. The HEMA+ treatment chair is a compact and versatile medical equipment for short-term treatments such as blood draws, vaccinations, and general examinations. This chair is very safe for patients in case of pressure drop, as it can be quickly placed in the Trendelenburg position. The TRIAD chair and the HEMA+ chair are two reliable and durable medical equipments, entirely designed and manufactured in Quebec, with advantageous guarantees.
Finally, the Foster patient recliner is another model of treatment chair recommended for medical day clinics. It offers excellent patient comfort with its integrated lumbar support and molded foam seat. It is also designed to optimize the work of healthcare professionals. For example, the armrests swivel to facilitate lateral access to the patient.
Medical equipment for day clinic: stretchers and treatment tables
The ECHO-FLEX treatment tables, known for their ergonomic features, are among the recommended treatment tables for outpatient clinics. They are reliable, durable, and versatile medical equipment. The ECHO-FLEX 4400-DO treatment table can be used for general examinations, ultrasound scans, plaster casts, and other medical procedures.
The ECHO-FLEX 4400-GY treatment table is suitable for the same purposes and can also be used for gynecology. This model has a retractable leg section and removable stirrups for gynecological examinations. In addition, all ECHO-FLEX treatment tables are electrically height adjustable. This allows healthcare professionals to work at the desired height, which helps prevent occupational injuries caused by poor posture. ECHO-FLEX treatment tables are also made in Quebec and have excellent warranties, including a lifetime warranty on the steel structure and welds.
Want to know more about the features of our medical equipment?
Check out our blog to learn more!
Medical equipment for day clinic: other medical furniture
Another recommended medical equipment for outpatient clinics is the height-adjustable reception and retrieval stations. This ergonomic medical furniture allows each healthcare professional to easily adjust the height of their workstation according to their height. This is an excellent solution for outpatient clinics where different healthcare professionals are required to share the same workstation. Height-adjustable workstations also prevent chronic pain associated with sitting for long periods, as they allow medical staff to alternate between sitting and standing throughout the shift. Adjusting the workstation is quick and easy and requires no physical effort. This is because the height-adjustable reception and retrieval stations are equipped with electric mechanisms controlled by easily accessible buttons.
Hand hygiene utility shelves are also a great addition to the medical day clinic. This ergonomically designed medical equipment helps promote hand hygiene best practices. For example, when installed near a hand sanitizer dispenser, the utility shelf allows healthcare professionals to easily place what they hold to properly sanitize their hands. The Hand Hygiene Utility Shelf is safe and simple to use: it can be lowered with the forearm, has a non-slip surface, and supports a maximum load of 120 pounds
Other medical equipment for outpatient clinics
Other medical equipment is recommended for use in outpatient clinics. For example, if blood is sampled in the facility, the 325M Arm Rest may be beneficial. This silicone medical device allows for quick and easy positioning of the patient's arm during a blood sample. For healthcare professionals and administrative staff who work in a seated position, ergonomic chairs, such as the Capisco 8106 chair, are an attractive piece of medical equipment. These chairs help maintain proper posture and are easily adjusted to the user due to their multiple adjustment options.