Medical equipment for operating room and surgery
The operating room and surgery
The operating room is the hospital or medical clinic unit where surgical procedures are performed. Typically, the operating room consists of several rooms, including a patient preparation room, an anesthesia room, a surgical team preparation room, an operating room, and a recovery room. Surgery is a medical procedure performed in the operating room of the operating space. The operating room includes various medical equipment, such as a surgical light, operating table, anesthesia and radiology equipment, and instrument tables.
There are several surgical specialties: plastic surgery, cardiovascular surgery, orthopedic surgery, neurosurgery, etc. Some surgeries are performed on an outpatient basis. This is called day surgery or ambulatory surgery. Other surgical procedures require the patient to be hospitalized. This is called inpatient surgery. Each surgical specialty has its specificities, requires specialized instruments, and poses various ergonomic challenges. For example, orthopedic surgery often involves cases containing screws, tools, and other components necessary to perform joint surgery (knee, shoulder, etc.).
These cases are usually heavy and lifting them poses a high risk of injury to healthcare professionals. By using ergonomic medical equipment that is adapted to the task, this risk of injury can be significantly reduced.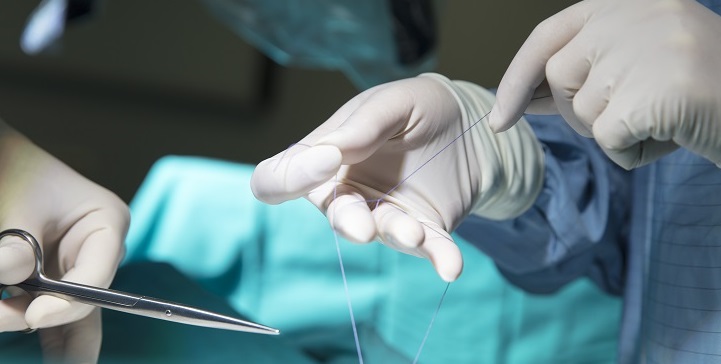 Are you looking for a brand of medical equipment?
IBIOM distributes medical equipment from several brands recognized for their quality and ergonomics, including ergoCentric, Humanscale, LIFEFORM and more
Importance of using ergonomic medical equipment for the operating room and surgery
To prevent the risk of injury and chronic pain, it is suggested that healthcare professionals be provided with medical equipment adjusted to their body type. For example, a person who is 6 feet 2 inches tall cannot adopt an ergonomic and comfortable posture if he or she uses a workstation adjusted to ensure the comfort of a person who is 5 feet 4 inches tall. Adjustable height medical furniture, which can be quickly adjusted at the touch of a button, is an attractive solution. To reduce the risk of work-related injuries, it is also essential to provide medical personnel with adapted equipment. When medical equipment is not ergonomically designed, healthcare professionals are forced to adopt awkward postures, which can lead to long-term musculoskeletal disorders. This is why it is recommended to use ergonomic medical equipment to ensure the comfort of healthcare professionals and optimize their work.
Every healthcare professional should have medical equipment that is adjusted to their morphology and allows them to work in the correct posture. However, operating rooms and wards are busy places where several medical teams alternate work. It is, therefore, impossible to provide a personalized workstation for each person in an operating room. The proposed solution for the operating room is to use height-adjustable medical equipment, such as adjustable instrument tables. This allows each healthcare professional to optimize their workstation and perform their tasks ergonomically and safely. In addition, work stoppages due to occupational injuries result in high expenses for injury treatment and return-to-work planning. Choosing ergonomic and easily adjustable medical equipment helps prevent the risk of work-related injuries and is a wise long-term investment.
Do you have specific needs?
Our team of professionals at Ibiom is there to advise you and guide you towards the range of products best suited to your needs.
Do you have specific needs?
Our team of professionals at Ibiom is there to advise you and guide you towards the range of products best suited to your needs.
Height-adjustable instrument tables for the operating room and surgery
The TO-6000 and TO-7000 instrument tables are medical equipment recommended for the operating room and surgery. They are adjustable in height from 30″ to 46″ using electric mechanisms. They allow each healthcare professional to work at an appropriate height. A foot-electric mechanism controls the height adjustment. This makes it quick and easy to adjust while allowing the healthcare professional to keep his or her hands free. The two instrument table models are identical, except that the TO-6000 does not have storage shelves under the work surface. Both instrument tables can be equipped with an optional rechargeable battery and support a maximum load of 250 pounds. In addition, they are equipped with four 4″ wheels with ball bearings for easy movement. The wheels at the front of the table are individually lockable. In short, the TO-6000 and TO-7000 instrument tables offer several ergonomic features to optimize the work of healthcare professionals and reduce the risk of occupational injuries.
Several other features make the TO-6000 and TO-7000 instrument tables an excellent choice of medical equipment for the operating room and surgery. They come with excellent warranties: the steel structure and welds of the instrument table are guaranteed for life, and the electrical components are guaranteed for three years. In addition, these instrument tables are made of grade 304 stainless steel: a durable material that is easy to disinfect and resists corrosion. Furthermore, for easy and efficient cleaning, the electrical components of the instrument table meet waterproof standards and are IPX6 certified. Finally, the TO-6000 and TO-7000 instrument tables are entirely designed and manufactured in Canada, more precisely in Quebec. Therefore, if replacement parts need to be ordered, it is quick and easy to obtain them. Customer service is also available in English or French.
Want to know more about the features of our medical equipment?
Check out our blog to learn more!
Other medical equipment for the operating room and surgery
Ergonomic medical stools are often recommended for dental surgeries performed in dentists' offices and for other medical procedures or examinations performed in a sitting position. Medical stools are usually equipped with casters and do not have armrests. This means they take up very little space and provide the health care professional with greater freedom of movement, as he or she can easily move around the treatment table or chair. In addition, by choosing a stool with a saddle-shaped seat, the healthcare professional can maintain an upright posture, which helps prevent back pain.
The Caspisco Saddle 8105 and the HS Pony Saddle 200 FR are two examples of ergonomic medical stools with saddle seats. In operating rooms, it is highly recommended to have access to stools that can be adjusted with the feet. In such a case, the ultimate medical stool is suggested to prevent medical personnel from contaminating their hands by adjusting its height.
Before an operation or surgery, it is often necessary for the patient to undergo medical imaging examinations. These examinations require specialized medical equipment, such as treatment tables and x-ray chairs. To prevent musculoskeletal disorders and chronic pain often seen in medical imaging technicians, it is essential to use ergonomic medical equipment.
The ECHO-FLEX ultrasound, echocardiography, and gynecology tables are treatment tables designed to help medical technicians adopt an ergonomic posture. The mattress of these treatment tables is curved, which allows the medical technician and the nursing staff to get closer to the patient during an examination or a medical procedure. This limits the need to overextend the arm.