Support and mobility for seniors' residences
Support and mobility accessories: a way to improve the quality of life, autonomy and safety of residents
There are several benefits to installing support and mobility equipment in senior living facilities. First, mobility aids are a way to improve the quality of life and sense of independence of seniors. Indeed, as they age, many seniors experience discomfort or fear when doing activities they once enjoyed or have difficulty performing specific movements, such as sitting or standing.
Support and mobility equipment, including ramps and grab bars, help people with mobility loss to move around. They allow them to continue to do the activities they enjoy safely. Secondly, mobility aids, such as safety poles, bath benches, and shower chairs, effectively reduce the risk of falls in seniors' residences. Their prevention is an important issue because falls are the leading cause of injury among seniors and often result in significant consequences, including chronic pain or reduced mobility.
To ensure the safety and comfort of residents, it is recommended that seniors' residences be equipped with mobility aids.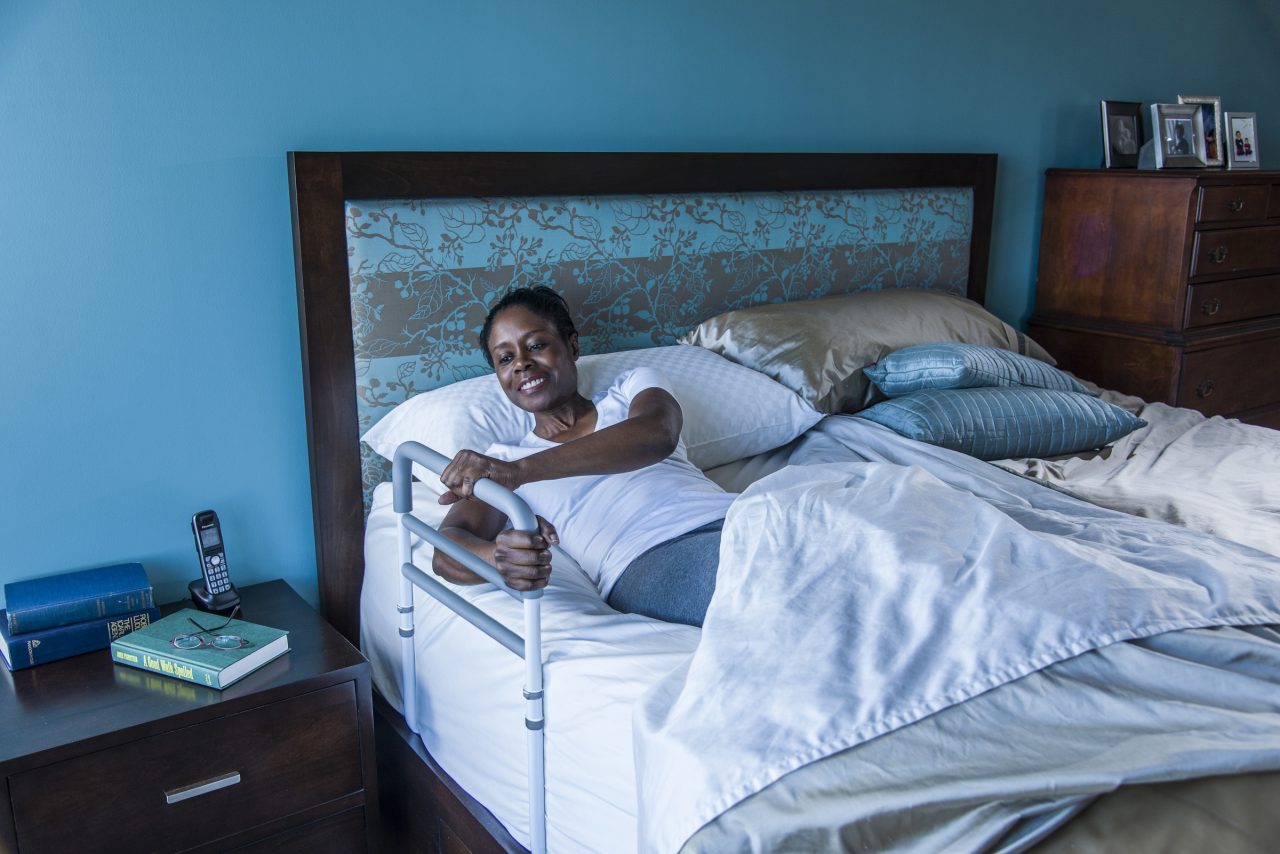 Are you looking for a brand of medical equipment?
IBIOM distributes medical equipment from several brands recognized for their quality and ergonomics, including ergoCentric, Humanscale, LIFEFORM and more
Choosing the proper support and mobility accessories for a seniors' residence
While support and mobility aids improve seniors' safety, comfort, and independence in their residences, certain criteria should be considered when choosing them. First, the ergonomic aspect: ergonomically designed mobility aids have features that make them easier to use and reduce the risk of injury for seniors. For example, if the handrails of a grab bar are sloped rather than at a right angle, wrist fatigue from using the aid is reduced. Second, the versatility of the equipment is another consideration.
Indeed, some mobility equipment can be accompanied by various accessories to adapt to the needs of the elderly person as their health condition evolves. For example, it is possible to add a swivel grab bar on a modular safety post to provide vertical and horizontal support in various positions.
Finally, opting for support and mobility accessories that can easily adapt to the space and the user is interesting. For example, many bathroom grab bars and shower chairs can be folded or swiveled rather than fixed. This allows them to be unobtrusive when someone does not wish to use them.
Recommended support and mobility accessories for seniors' residences
HCP mobility aids are recommended for senior living facilities. They are ergonomic and versatile equipment that can be adapted to various spaces and offer several configuration options. The main HCP mobility accessories for the bedroom are the Smart-Rail and Assista-Rail bed rails. These are easily installed between the mattress and box spring, as well as trapezes, which attach to the SuperPole safety post or mount to the ceiling, that help seniors get out of bed. The floor-to-ceiling SuperPole safety post and floor-mounted Advatange Rail and Advantage Pole handrails are always popular with residents for the dining room, living room, and other common areas.
The risk of tripping or slipping is particularly high in the bathroom. This is a critical room where installing support and mobility accessories, such as shower benches and grab bars, improves safety for seniors. HCP mobility assistance products include several bathroom accessories. The SuperPole safety post that matches the SuperBar, the Easy Mount grab bars, and the Dependa-Bar swivel ramp are useful in helping seniors get in and out of the bath. The PT Rail, available with wall or floor mounting, provides safe access to the toilet. Several models of shower benches and bath benches are also available, including a removable bath valet.
Do you have specific needs?
Our team of professionals at Ibiom is there to advise you and guide you towards the range of products best suited to your needs.
Do you have specific needs?
Our team of professionals at Ibiom is there to advise you and guide you towards the range of products best suited to your needs.
Other support and mobility products for seniors' residences
Seniors who are experiencing a loss of mobility often spend several hours in a sitting position. However, not all chairs are designed for prolonged sitting, which can lead to postural problems or pressure sores. Senior living facilities can provide their residents with gel cushions and molded foam positioners to remedy this situation.
These orthopedic cushions, which come in various sizes to accommodate different types of seating, are designed to promote and maintain good posture and relieve pressure points.